Anyone who has ever placed a bet will have encountered a betting slip. Whether this is the old-fashioned kind of slips found in bookmakers' shops, or the latest in e-betting slips, the betting slip is an essential part of the betting experience and the standard interface between punter and bookmaker. The concept of the betting slip is simple, but as with every other industry, there are quirks and pitfalls associated with this particular piece of virtual paperwork, and the process of using a betting slip can be confusing for newcomers.
The Evolution of the Betting Slip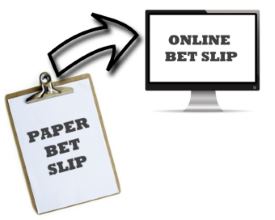 In the early days of betting, there was rarely any written record of bets taken. For example, among the eighteenth-century English aristocracy who regularly used to gamble on horse racing on Newmarket Heath or cricket matches in London, the size of the bet was simply noted down by the bookmaker against a certain individual's name. Often the bets were gentlemen's agreements with no paper changing hands, and as for a long time a bet was not considered to be a legally binding contract, there was little point in going to the trouble of writing out betting slips.
That began to change as betting became a commercial activity. Bookmakers on course and in shops began to mass produce betting slips for their customers to use, and millions of people soon became acquainted with filling out these tiny slips of paper. Of course, when the betting industry moved online in the 1990s, sportsbooks needed a new solution, and the e-betting slip was born.
Filling out an Old School Betting Slip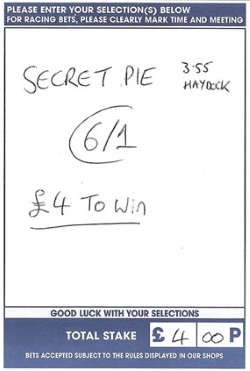 Most modern punters do their betting online and will rarely need to fill out a physical betting slip. But it can still be a satisfying process to wander into a bookmaker's shop, pick up one of the little pens and scribble out your bet on a flimsy piece of paper. And not only does this help you to connect with the traditions and history of the sport, but it can also give you another perspective on the betting process.
So how do you fill in a betting slip the old-fashioned way? Well, let's say that you've done all the hard work and you've managed to find a great bet on a horse at a good price and you're not sure how to fill out a horse racing betting slip. Just grab a betting slip and a pen and get to work.
Filling in a physical betting slip is about communicating your bet requirements clearly to the staff on the counter, and potentially avoiding any disagreements later on. First, you will you need to identify the event you are betting on. If this is a horse race, it will be the course and the time of the race. For a football match, it will be the two teams involved. It is important to be clear in the way you write the details, so avoid abbreviating any names wherever possible.
The next stage is to indicate the betting odds. These will be displayed somewhere in the bookmaker's shop, and if you aren't sure, then ask the staff on the counter. Write down the odds, making sure you write the numbers clearly, then fill in your stake in the relevant box. For accumulator bets, you will need to write out each leg of the multiple and the price for each, and for complicated multiple bets such as the Heinz or the Yankee, there are usually specialist betting slips to make these easier to write out.
Online Betting Slips: Fast and Convenient
While using an old-fashioned betting slip has its charm, there is no doubt that online betting slips offer a much faster, more convenient alternative, and with so many online sportsbooks like 888sport or Betfair these days, punters need never visit a real betting shop. Indeed, in many countries, there are no such facilities and all sports betting is done through easy-to-use e-betting slips.
Filling out an E-Betting Slip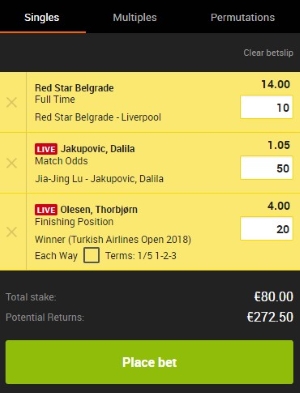 The design and precise layout of online betting slips will vary from site to site, but the basics remain the same. Online sportsbooks are keen to make the process of betting as quick and user-friendly as possible, so you will usually find very little variation in betting slip design.
Most online sportsbooks position their betting slip on the right-hand side of the site's main page, either hidden until you need them, or open and left blank. Unlike with a physical betting slip, an e-betting slip doesn't require you to go to the trouble of writing out your selection! Instead, all you have to do is to navigate to the market of your choice and click on the team or option that you wish to bet on.
This bet will instantly appear on the betting slip, along with the relevant price. You can then enter your stake in the relevant box. The e-betting slip will usually have other options, including a small box that you can tick to turn your single win bet into a win and place or each-way bet.
By avoiding the need to write out your selection, the e-betting slip takes much of the hassle out of the process of making your bet, and it also provides clarity over which market and selection you had in mind, which can sometimes be lacking with handwritten betting slips.
Additional Benefits of the Online Betting Slip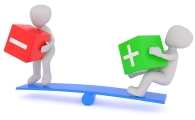 The e-betting slip has some other advantages over the old-fashioned betting slip. Firstly, most online betting slips will display your potential winnings once you enter your stake into the relevant box, which enables you to check that you haven't mentally miscalculated when making your selection. Online slips will also usually make it easy to add more bets by clicking on further selections. These will appear on your betting slip, and you will have the option of combining them into a range of different types of multiples, all at the click of a mouse.
Finally, one common feature of all online betting slips is that they give you the option of checking your bet, before you confirm that you are happy with it. This is a useful feature that can help you to avoid making rash or incorrect bets, or to switch your selections if you change your mind at the last minute.
In Summary
Betting has changed hugely over the years, and while the modern punter still needs to fill out a betting slip in order to get their bet on, the advent of the e-betting slip has made the process easier, more user-friendly and much more convenient.