The Futbol 24 app commits to provide up-to-date information about football outcomes and scores, and it covers almost all soccer games played around the globe. The list of featured games is incredible, as the Futbol 24 application includes all the main European and international leagues plus under 19s championships, traditional and less known tournaments. Visitors can select the games they wish to follow, and they will get push scores, which means the system of the platform notifies users as there is a goal in the match.
The app provides information about the player who scored the goal and, in case there is some mistake, this data gets modified within a few minutes. However, the information is commonly accurate, especially when it comes to the major leagues and games.
Futbol 24 ranks among the best live score applications as it offers excellent service and continually updated information. The app operates flawlessly on iOS and Android devices, and it is quite easy to install and use it.
Screen Shots of the Futbol 24 App for Live Score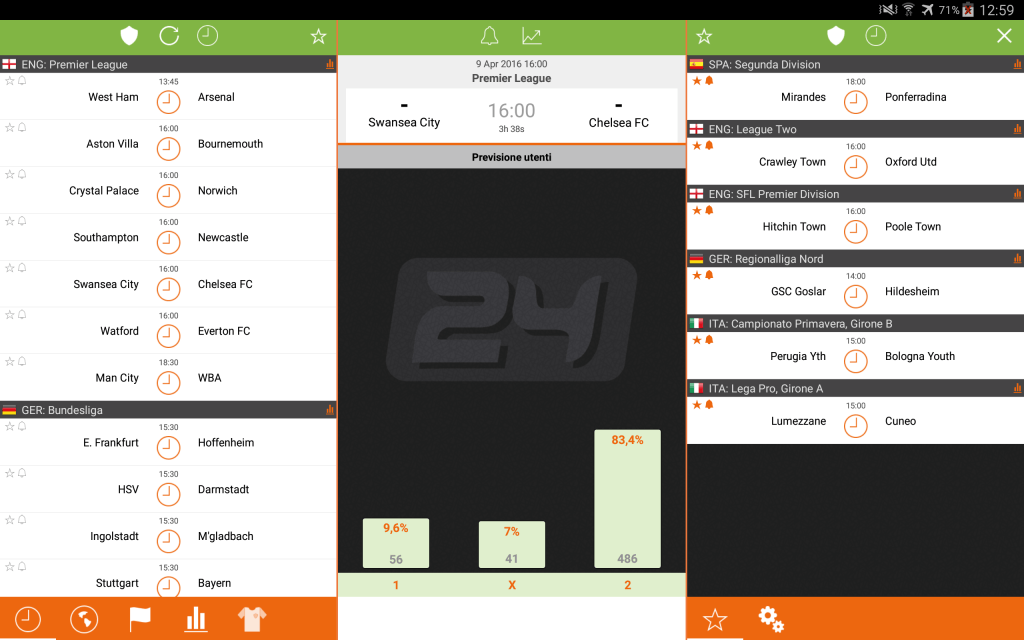 Features of the Application and Review
The application of Futbol 24 provides an extensive list of attractive features so that visitors can select among plentiful and excellent options. Users can mark their favorite clubs and receive consistent information about the games these clubs play. It is also possible to select particular leagues and receive updates from these championships. This includes matches from the English and the Spanish league. Choosing a match is simple – you just need to swipe a finger to the right of the apparatus' screen. Thus, you will receive info about goals, and the game will get into your list of top events.
The star symbol in the menu contains your favorite games that you are willing to follow. Removing a game from this list is also effortless – just swipe a finger in the opposite direction.
Another attractive feature allows visitors to make predictions about games. There is a leader board which provides information about how other users are doing and what your results are. This board features the predictions of other visitors from all over the globe.
To conclude, the Futbol 24 app is an excellent platform which provides timely data about scores from all significant and less popular leagues. It works without troubles on devices with Android and iOS and offers great functionality and features.