Football betting has never been more popular, and every day millions of punters wager on the outcome of every type of football match, from high-profile internationals to lower-league games. But most of the betting that takes place on football matches involves the traditional match winners market, offering three outcomes: home win, away win and draw.
While there are always plenty of sportsbooks out there willing to take bets on match outcome markets, these are also the hardest markets in which to find an edge. That's why many professional punters look for alternative, lower-profile markets in which to profit, and one of the most overlooked areas of football betting is corners.
Why Corners?
Betting on the corners awarded during a football match has been steadily growing in popularity over recent years. One of the advantages of these markets is that they focus on a relatively minor aspect of a football match, which most bookmakers don't devote significant resources to monitoring. Another advantage of corners betting is that the in-play corners markets feature significant fluctuations, offering opportunities for sharp punters to profit.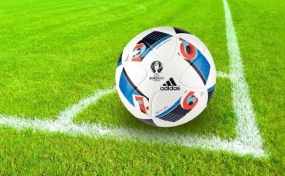 It is important to remember that betting on corners involves taking a different approach to your betting than with more traditional football markets. The outcome of a football match can show some correlation with the corner numbers for each of the two sides, but not always. Compared to other, higher scoring sports, football offers much more volatility and this volatility is particularly apparent in the corners markets.
Instead of focusing on which team is the strongest, punters who bet in the corners markets take a more nuanced approach to their betting, involving a careful study of each team's previous corner statistics and a weighing up of the relevant factors that could influence the number of corners in a game, and we will explore these factors in more detail later.
Corner Betting Options
There is a wide variety of corners-related markets in the sportsbook industry, but most bookmakers will offer three main corners-betting options.
Total Corners
In the Total Corners market, the sportsbook quotes a figure that they consider a reasonable estimate for the likely number of corners in a game and punters have the option of betting Over or Under that amount, after considering the odds on offer.
Handicap Corners
The Handicap Corners market is similar to the handicap markets you will find with betting in a number of other sports such as rugby or basketball. The sportsbook will quote a theoretical advantage to one of the two teams, which will be indicated by a plus figure while the opposing team will have a minus figure. For example, if Chelsea play Arsenal, a bookmaker may offer a handicap of Chelsea -2 Arsenal +2 and punters would have to choose whether to back Chelsea against the handicap or Arsenal with the handicap.
Most Corners
This is the simplest of the Corners markets, and involves backing one of the two teams to gain the most corners. You can always check for statistics on corner betting online. This market is sometimes referred to as the Money Line corners market, particularly among US sports books and punters.
Corner Betting: Doing Your Homework
Anyone who has spent any time watching football will be aware that corners can result from a number of scenarios. It is also often the case that corners will come in clusters, as one team enjoys a spell of pressure and lays siege to the opposing team's goal.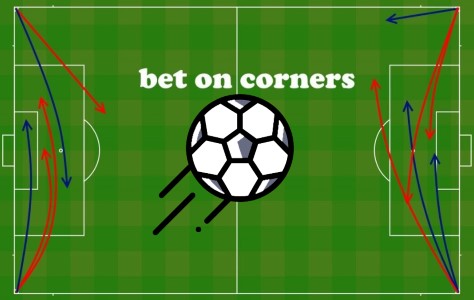 The key to corner betting is being able to accurately predict which teams are most likely to win corners and which will be more prone to conceding them. The main influence on the number of corners a team wins or concedes is the number of shots on goal they have or allow their opponents to have. Teams that create a lot of chances are also likely to earn a high number of corners, while teams that record high block stats will concede a lot of corners.
Influence of Tactics on Corners
While shots on goal and blocks are an important part of research when it comes to corners betting tips, punters should also be aware of the impact of tactics on these markets.
Two tactical factors in particular are important. The first is width. Teams that play with a lot of width are likely to attempt more crosses than the average team and a certain proportion of these crosses will be deflected or cleared for corners. Punters who bet in these markets need to know how each team plays and how this can affect the corner count.
The quality of shots, as opposed to the number of shots will also have an influence on the corners markets. Some teams are encouraged by their coaches to shoot from distance, while others are under instructions not to have speculative efforts on goal. A long-range shot is less likely to go in, and more likely to be deflected for a corner than a shot from nearer the goal, so teams with a tendency to fire in a lot of hopeful long shots can rack up a lot of corners.
Betting on Corners Pre-Match
Many punters who focus on the corners markets prefer to bet in-play as the markets are more volatile and there is more opportunity for them to profit from their knowledge, but there can often be good corners-related bets in the pre-match markets.
The key to successfully betting on corners in the pre-match markets is to accurately predict how the game is likely to unfold in terms of attacking pressure and tempo, which is easier if you have done your homework and understand how each team plays. You can then combine this knowledge with team news and morale and motivation factors to come up with a reasonably accurate estimate of the likely number and distribution of corners in a game.
One effective method can be employed with the time-related corners markets, which often quote odds on which team will win the most corners in 10-15-minute spells or which team will win the first corner. Some teams have very clear patterns as fast or slow starters in their games, and this information can be the key to profit in time-related pre-match corner markets.
In-play Corner Betting Strategies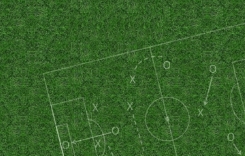 As mentioned earlier, many professional punters choose to bet in the in-play Corner Betting markets, and there are a number of football corners betting tips that can prove profitable. You can try these corner betting tips in a variety of applications for football betting.
Strategy #1 – Backing Over
With this approach, punters look for opportunities to back Over in the Total Corners market. The situation to look out for is when a team has a high incentive to win, perhaps because a trophy is on the line, but they are losing by a single goal and there is less then fifteen minutes until the final whistle. In these circumstances, the team in question will be going all out to score and will be raining in shots on the opposing team's goal, not all of which will be well-directed, and the end result can be a string of corners.
Strategy #2 – Considering Additional Factors
This is a variation on the previous strategy, focusing on betting on a high number of corners and is designed for situations when a pre-match favourite is pushing hard to get an equaliser. But there are a number of additional factors that have to be present before making a bet:
The game is played at a high tempo with lots of width
Attackers are regularly taking the ball to the by-line and not cutting inside
The side chasing the game is attacking quickly against a static opposition defence
The game is being played at a stadium with a noisy crowd near the pitch
In this case, the ideal time to bet, providing the conditions above are met, is around the hour mark. As with all in-play betting, if there is a goal, it is important to reassess the position, but if neither team scores and all the above factors are in place, the corner count should rise.
Strategy #3 – When to Bet on Under
With this approach, punters are looking for scenarios that appear similar to those in the previous examples: games where a pre-match favourite is losing by a single goal with time running out. But here, the shrewd in-play punter is hoping to spot signs that the favourites are unable or unwilling to raise their game to push for an equaliser. Perhaps there is nothing of significance at stake, or maybe fatigue or poor morale will lead the losing side to accept the situation and make only token attacking efforts. In these situations, it can pay to bet on the Under option as the market can sometimes overestimate the likely number of corners.
To make this strategy work, you need to know your teams and to have some insight into how they usually play and into the body language of key players, which will enable you to spot occasions when the favourites are unlikely to chase an equaliser too hard.
Added Diversity and More Winning Potential
For football punters who are looking for an alternative to the traditional Match Winners or Handicap markets, the various Corners betting markets offer an ideal combination. They are obscure enough that bookmakers don't devote too much time or energy to getting their prices right, yet are not a lottery, and offer rewards for punters prepared to do their homework.