We have on point the app of the most famous website for gaming – 888Sport App for iPhone Review. They have been a provider of betting games for twenty years until now. For those who are new to the fun of mobile betting games, there is no need of making research, because now 888Sport App is available for any iOS device. You can find there all the great features that are also placed on the website of 888Sport. The difference is that you are using a more convenient platform to reach all those awesome options given to you, so placing the next bet on your favourite sport is on a one hand distance – just grab your smartphone or tablet and Done! What are you still waiting for?
Get a Welcome Bonus with the 888Sport iPhone App
As a new customer of 888Sport, you have the real chance to grab treble odds if the bet you have made wins. All you need to do is to register in the 888Sport and place a deposit (at least £5). Let us say for example that you have placed £10 with odds of 10/1, and your bet wins, then 888Sport will pay out the bet as if it was 30/1, so in this way, you get treble odds.
You can use the amazing app of 888Sport on your mobile device or tablet, but first, you need to make a registration on the site. You need to do this in order to be able to use any of the features. All needed is to submit a few details and choose the payment method you would like to use. For easy access, we choose to post a direct link to the registration.
How to register and account: For creating a new account you need to fill some personal detail information. Once you have finished with this simple step, you can free download the 888Sport Application.
Downloading and Installing the 888Sport app
There are 3 ways with which you can install the 888Sport iPhone app. The first way is to visit the 888Sport website and after you create an account to download the app from their mobile site. Another option is to open an account from one of our links and send an SMS containing "Sport" to 83311, the link to the app will be sent to you. The last way is to open an account by using iTunes.
888Sport App for iPhone Screenshots
By making the new update in June 2015, 888Sport created slightly different touch. Compared to the previous style version of the 888Sport iOS App, now it has recognisable orange shades on the most important parts you have to pay attention to. We choose some images to show you the previous and current look of the app: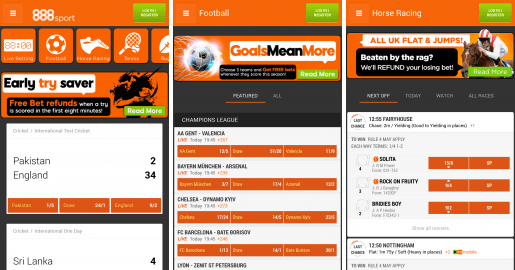 It seems that the dark parts of the design have been replaced with more fresh and stylish orange shades, so the latest offers and promotions pop right in front of your face, and you do not lose anything you need to know about. The things are brought to the light as we are comparing the both colours, so you are not going to miss any option to save some money.
Betting with the 888Sport app for iPhone
Live to bet: The 888Sport App has a lot of in-play live action events, and they are becoming, even more, all the time. You can see the score in real time and place your bet with the latest odds in a second, so you are not going to miss a moment on that all-important match. As you are looking at the bottom of the screen, you will find all the most popular bets so that the most famous sporting events will always appear to you.
Online help: The online app is designed for pleasurable customer experience, but in a case of a little stuck there is an online help bar that should be able to clear the things up.
App Features
Options to choose from a lot of different sports: The app has a hundred of sports from which you can choose, that includes football, baseball, ice hockey, basketball, golf, sporting tennis, English cricket.
Distinctive colour scheme: The application for iPhone has to offer you a colour designed combination between orange and black, where the orange part takes most of the place. It may not be by any taste, but in our opinion, it has been made in this way to make the small font on your device to be seen easier.
Cash-In Feature: You are able to cash-in within the iPhone App before the event has been finished if you stand to minimise your losses or to make more money.
Available in multiple languages: The app is available in different languages. You can take this in advantage as you may practice foreign languages. You are able to choose from several European languages, and so you can make a choice as English is not your mother language.
Betting on special non-events: In the app for iPhone, you can put bets even on non-sporting events, for example, the Oscars, elections or reality tv shows.
Options to choose from different paying methods and withdrawals: There are 21 options to deposit cash in the iPhone application. Compared to other betting app providers there are a lot. That also means that you are always in control of your money.
About the Company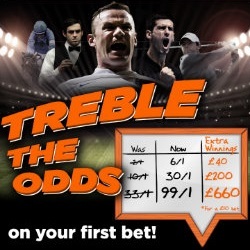 The 888Sport company was established in 1997, but in 2008 they are deciding to take advantage of the mobile betting apps, as creating their own version of their website. Ever since then, their popularity has grown.
The company has always been into striving to create a better version of themselves. Every last update of the 888Sport shows richer features and more benefits for the customers.
Conclusion
The well-designed app of 888Sport has a lot to offer you with its awesome features, options for the clients to pay and a lot of bonuses. If you are a fan of betting on sports events, this is your place. The 888sport app has to offer you even more than this, non-sporting events to share the fun with you even out of the sports life. Do not hesitate and visit the website of 888Sport and become a customer.
We are happy that we have a chance to help you with information about the 888Sport website and their app. Thank you for the time you spent reading our review!
Frequently Asked Questions
Is it possible to watch live streams from my device? – Yes, it is. This features is available for all of the 888Sport customers who are logged in and have staked at least €0.10 or the equivalent sum in another currency.
Can I create an account from my smartphone? – Yes, if you have not downloaded the application yet, you can do it from the sportsbook website. After you open the app, just press the person symbol in the top right corner and click Open Account.
Where can I see my sports betting history? – After you have logged into your personal account, just click on the person symbol in the upper right corner and click on Bet History from the menu, which is positioned on the right.