The Irish betting apps prove that sport is paramount for the people of Ireland, and it has a crucial role in their lives. The Irish get together to support their team in the Gaelic football championship and cheer Connor McGregor in Las Vegas. The atmosphere, which is characteristic of sports events with Irish participant, cannot be found anywhere else in the world, as it is not just a matter of athletic competition, but of pride and brotherhood. It isn't any different when it comes to playing on the Irish betting apps.
Boxing, rugby, and golf enjoy great popularity in the country, but the Irish also love greyhound races and football. It is worth mentioning that Ireland is among the leading producers of Flat and National Hunt horses of premium quality, and there are also top-class jockeys and trainers. The variety of top betting applications cover all these events.
The bookies in Ireland are thriving because Irish people are not only fond of watching sports but also keen on placing wagers. The constant development of technologies and the advancement of tablets and smartphones, gamblers can bet on their top favored sports and games on the go, using their mobile devices, which gives them freedom, flexibility, and great convenience, making betting effortless and funny.
The Ultimate Irish Mobile Apps – Live Streaming of Sports Events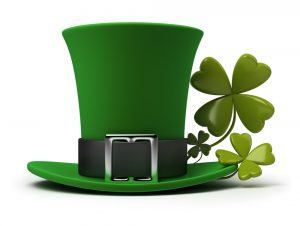 There are some Irish betting apps which offer live streaming of various sports events, but just a few cover Irish sports. It can be quite frustrating to check all apps to find streaming of the events you are interested in, so you better rely on other apps, which cover Irish games, tournaments, and events. Here are some of them:
RTE Player – This application is operated by the Irish national broadcaster. It is compatible with all the key mobile gadgets, and it covers plentiful GAA sports, boxing, horse races, rugby, etc. The platform also offers coverage of individual gold tournaments and football games. Typically, most events are free to watch, but some of the streamed games and races may require paying a fee.
GAAGO – This mobile platform covers all the main Gaelic Games and offers live streaming of all top games and events. RTE and GAA bring this service to fans around the globe, and they make it possible to watch an all-inclusive selection of Gaelic football and hurling. The app is not free and users have to pay a specific fee to watch separate games. Another option is to purchase a seasonal pass. The service can be utilized on mobile gadgets, smart TV or desktop computers, depending on the preferences of the viewer.
UK apps for live streaming – BBC is the main and largest British broadcaster, so it streams plentiful events free of charge. You can utilize the BBS Sports or the BBC iPlayer applications, which also cover Irish events, such as golf, rugby, and athletics.
If you are a football fan, you should check the Sky Sports Mobile TV as it provides an extensive selection of games. However, you need to pay for the games you are interested in or to have a paid subscription.
Horse racing fans will certainly enjoy the All4 app operated by Channel 4, which provides live streaming of races every Saturday and covers significant events.
Paddy Power – The Ultimate Bookie for Irish Bets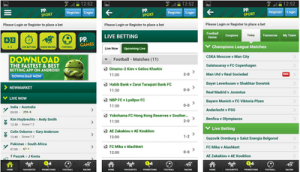 Paddy Power launched in 1998 after the merging of several bookies, and since then it has been thriving. Today this is the ultimate bookie on the Irish betting scene. Paddy Power offers the best odds and promos, such as money back deals and special offers. It is known for the dubious campaigns it releases and the innovative mobile betting services and features.
Gamblers who utilize mobile gadgets with Android and iOS can obtain the mobile app of Paddy Power on their devices and start placing wagers. The application's design features the characteristic green nuances, and there are banners displayed all current offers to grab your attention.
The other features, such as the upcoming games and events, the in-play options, and the covered betting markets are quickly accessible through the direct links on the homepage.
The prominence among the Irish betting apps is in traditional sports, such as greyhound racing, tennis and golf. The app offers quick admission to these markets, but gamblers can also find them in the complete list of features sports. The application covers endless sports markets, including football, hurling, basketball, table tennis, alongside with other innovative options, such as X-factor, Podge & Rodge and much more.
Punters should keep in mind that the desktop site of the bookie provides live streaming of numerous sports, but the mobile app only streams horse races. Gamblers are required to place a wager on any Irish or British race to get admission to the live streaming of the races provoking your interest.
Barking Buzz App – The Best Greyhound Betting Application in Ireland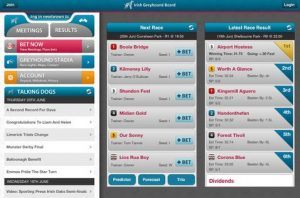 Greyhound races enjoy a keen interest in Ireland, and their popularity has not stopped growing since the 1920s. Today the fans of this sport can get all the information about these races in the country using the Irish betting apps of Barking Buzz. This mobile platform covers all significant dog races in Ireland, including Harolds Cross, Limerick, and Shelbourne Park tracks.
Gamblers can obtain and utilize the app on Android and iOS gadgets. Thus, they will get admission to the upcoming races, news and other handy information about the events. Punters are also able to run simulations of all races via the unique tool for predictions. Detailed statistics are also available. Having all this information, punters can place wagers on the go and enjoy themselves.
The Tote is an excellent way to put bets on dog races through the Barking Buzz among Irish apps. Gamblers are just required to create an account through the mobile application and to make a deposit. Then, they can select the tracks they want. The system automatically adds your bets to the Tote pools and transfers the winnings to your personal account after the completion of the race on which you have betted.
The app of Barking Buzz offers a live stream of plentiful races on a daily basis. These streams are with HD quality, and you can watch the events directly on your mobile gadget. There s a TV icon to label all streamed events to make navigation smoother and easier. Punters get access to the streaming after betting just €1 using the application. Then they can enjoy their favored races regardless of where they are at the moment.
Frequently Asked Questions
faq
How is gambling regulated in the country?
Gambling is legal in Ireland, and this applies to sports wagers, lotteries, poker and casino games.
faq
Are any taxes changed on online gambling transactions?
Yes, the gambling law imposes taxes on any gambling operations and business initiatives carried by bookies.
faq
Do the Irish applications accept PayPal as a deposit method?
Yes, but you need to have an Irish citizenship to utilize PayPal as a payment option to make deposits of funds in mobile apps.
faq
Is it possible to obtain mobile betting applications from the Irish App Store?
Yes, it is. Gambling is legal in Ireland, so there are not restrictions about downloading real money gambling apps from the App Store.