At the beginning of 2014 Bet365 bingo app has finally become a reality and enabled thousands of impatient gamblers to play their favourite bingo games on their mobile gadgets. Bet365 is unquestionably among the top rated sport betting agents, and now it also offers an excellent online bingo application.
Bet365's platform features a wonderful variety of bingo games, such as 90, 75 and 80 balls variations plus more than a hundred other games, such as scratch cards, slots, and keno. The interface and design of the bet365 bingo app are superb and provide a one of a kind bingo experience.
All gamers who create new profiles on the bingo app of  bet365 will get £10 to check the offered games and other staggering promotions and offers, specially created for new users. You are given admission to a wonderful room for newbies where you can receive a 200 percent bonus, which is undoubtedly one of the greatest incentives in the online bingo industry. You can read more about it in the section below.
Be365 Bingo Welcome Bonus
If you are just starting your bingo journey with the Bet365 app, you will not find it difficult to boost your winnings with the company's incredible welcome bonus. Bet365 suits every taste with their promotion of £20 bonus on slots, £1,000 in prizes, and a £20 bingo bonus.
Downloading and Installing the Bet 365 Bingo App
Sign up first at Bet365's site or via the app
Click on the Download button above and press OK
Press Install
Due to its simple navigation and excellent interface, downloading the bet365 bingo app is totally effortless. Do not hesitate to create a new profile first, which will give you admission to superb bonuses and promotions. Then secure the application on your gadget and modify the settings to allow installation of third-party apps.  Log into your account to claim the offers and start enjoying the endless selection of bingo games.
Screenshots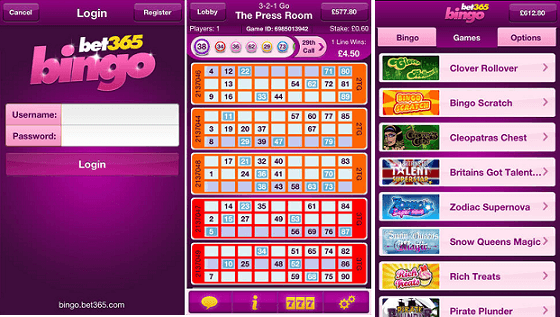 The screenshots of bet365's application clearly visualise its neat design and clear navigation. Upon entering bet365's app, users are directed to the lobby where they can select from the rich variety of provided games. There is a menu which takes gamers to the banking section, where deposits are easily made. You can effortlessly orient and navigate around because the layout and design is superb and flawless. The graphics load quickly and all captions and fully readable.
Betting with the Bingo App of Bet365
The bet365 bingo app attracts thousands of gamers with the staggering selection of games, the intriguing incentives and the wonderful functionality. Betting with the application is extremely easy. The lobby provides a clear and systematic arrangement of the offered games. There are 80, 75 and 90 balls bingo variations, scratch cards, keno, and slots. The choice of tickets is endless, and everyone will undoubtedly find the games they prefer and enjoy. New users are given admission to the special room created for newbies, where they have the chance to win £1,000 from the multiple games.
The bet365 bingo application provides intriguing bonuses and promotions. Gamers with new profiles receive a welcome bonus amounting to £10, which they can utilise to test some of the featured games. There are also regular events, such as the £5,000 jackpot game and the Tuesday last chance promotions. 1TG and 2TG prizes are among the top favoured options for all players. There are also intriguing side games, which offer reasonable prizes and great fun. The mega star of the app is definitely the huge £50,000 Feel Good event that is offered on Friday.
The layout and performance of bet365's bingo app will not disappoint visitors who are looking for a great experience. The design is standard and functional, and the performance of the platform is quite nice. There are no disturbing flashing lights that grab your attention and cause too much strain. The games and all graphics load without troubles.
The accounts at bet365 are managed without efforts and payments are done easily and safely. The application accepts all major payment options. All your personal data is fully protected, so you should not have any concerns about security. Bet365's app runs smoothly on mobile gadgets with iOS and Android, so you can obtain and utilise it if your tablet or phone has such an operating system.
To conclude, the bet 365 bingo app is an excellent bingo platform, which offers everything necessary for a pleasurable experience – great selection of games, superb performance, ultimate functionality, easy-to-orient layout and navigation, perfect security, attractive promotions, incentives and special offers. Choosing to utilise this app, you will unquestionably become one of the multiple happy and satisfied users.
App Features of bet365bingo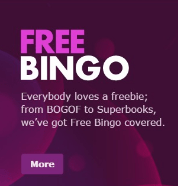 Bet365 ranks among the top mobile bingo platforms, and it never leaves its users disappointed. Bet365 gives you the opportunity to earn loyalty points which you can later use to play bingo for free. This is definitely not something we see every day, and there are a limited amount of bingo sites, which offer this!
Bet365 offer various intriguing features, which entertain the visitors and allows them to experience wonderful time playing their favoured games and enjoying the flawless performance. These positive and intriguing features are related to the selection of games, the generous bonuses and wonderful promotions, and to the account management and security. The excellent combination of these features makes gamers prefer the application.
The platform provides a staggering range of game and tickets, such as bingo games with 90, 75 and 80 balls, slots, scratch cards, keno and other intriguing options. All these games are neatly organised and easy to access. The frequent promotions and regular events with major jackpots make the gaming experience at bet365 even more pleasurable. New users get a nice welcoming bonus plus access to a special gaming room for newbies where they can get to know the provided games. Accounts, data and payments are completely secured by powerful encryption, and management is without troubles. Your valuable banking data is absolutely safe, so you can enjoy playing without any worries.
Remember the loyalty points we mentioned above? Well they all stack up to an amazing loyalty scheme. So everytime you play bingo, you will recieve loyalty points, which can later on be exchanged for bingo tickets. The more you play, the more you will get!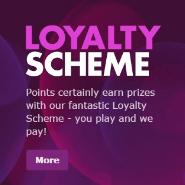 The performance of the app is another positive feature that boosts the popularity of the platform. The application has a flawless layout, easy navigation and excellent functionality. The contents load quickly and without troubles; all captions are easy to read without strain, and there are no too flashy and disturbing elements.
Happily, bet365's bingo app runs smoothly on all major brands and models of mobile gadgets that utilise Android and iOS. This means everyone can obtain the app on their mobile phone or tablet if it has one of the mentioned operating systems.
About the Company
The bet365 bingo application is created and operated by the well-known bet365 gaming and betting provider. The company launched their bingo section in 2004, and now they have developed an online bingo application.
Bet365's bingo platform features multiple intriguing games plus generous bonuses and wonderful promotions. This combination guarantees the perfect gaming experience.
The application boasts a functional design and optimal performance. Players can easily orient and find the games they favour. The firm behind this app is licensed and registered, and it is among the most trusty betting companies.
Conclusion
We know that bingo fans have been waiting for a lifetime for bet365 to bring a bingo app and they finally did it. The app was created at the end of January 2014, and for the past several years it has reached thousands of downloads. There might not be anything groundbreaking about the application, but it is very easy and easy to use, which is pretty much what most players want. There is a great choice of tickets, and you can play in both the 75 and 90-Ball rooms. You get the exact massive prizes and jackpots as on the regular bet365 bingo site.
Similar to a lot of the newer bingo applications, bet365 have provided us with a well-designed chat which helps you make new friends. You can even pre-buy tickets for scheduled games, which are very helpful when you are in a hurry. The choice of games is to die for. Some players prefer to wait until the end of the week to play the £50k Feel Good Friday since the games include both Last Chance Saloon and 1 & 2TG. As we already mentioned several times in this review, the game selection is amazing and they all have that feel good factor that always makes you come back for more.
And even if you get bored with bingo, (which is highly unlikely to ever happen with bet365bingo) there is an excellent mini games selection with hits like Clover Rollover, Britain's Got Talent and Dynamite Digger. There are a tonne more on the app itself with additional games added on a regular basis. We usually recommend this bingo app to both new and experienced players. So what are you waiting for, head to bet365 and claim your welcome bonus!
Frequently Asked Questions
Below you can find some of the most common FAQs about the app. Hopefully, they will provide some more valuable information about the working principles of the platform and its functionality:
Gamers should not worry about safety because accounts, personal data and transaction are kept secure by powerful encryption.
faq
What types of payment methods are accepted?
Convenient is a top priority, so users can make deposits and transactions utilising all major options, including PayPal, bank transfers, debit cards, and credit cards.
faq
Does the app impose any limitation as to the number and kind of other applications utilised on the same gadget?
No, there aren't any restrictions, and you can obtain and use any kinds and figures of
other bingo apps
on your tablet or phone.
faq
Is it possible to get the app on plentiful devices?
Yes, the app can be downloaded and operated on as much gadgets as you wish, such as your personal phone or tablet.
Useful iformation
Increases Reach (Customer Case Study)