10bet mobile app gives you the opportunity to bet on you favourite sports anywhere and at any time.You have more than 150 football leagues and more than 60 different sports for you to choose where will you put your bet on. The perfectly designed sports mobile app of 10Bet is simple and easy to work with. You can scroll at you fingertip through the wide range of in-play options, and the bonus offers will pop in from of your eyes. The are made for your facilitation, and only You can decide whether to grab the offer or not!
Over a 60 000 events are placed in the 10Bet Mobile app per year. This includes live events (18 000 +) and more than 1,000 types of betting on more than 60 different sports. Isn't that amazing?
What is the Difference Between 10Bet Website and 10Bet Mobile App?
The difference between 10Bet website and the 10Bet app is not too big. The requirements are one of them. The app needs to be supported by the right gadget. For example, the specifically designed for the Apple devices app can not be played on Android devices.
The website of 10Bet can be reached from no matter what device. The URL should simply need to be entered on your mobile device, and you are ready to go. 10Bet is making an automatic update, so you do not need to do it by you own. Compared to this, the 10Bet app requires the update to be made manually, unless your device has an own automatic update. Then you can enjoy it without losing time of installing its new version.
The best thing is that the mobile device has almost the same features like its website version. Thanks to that, the performing of some of the functions is made easier. For instance, contacting the customer service.
The 10Bet App on Your Mobile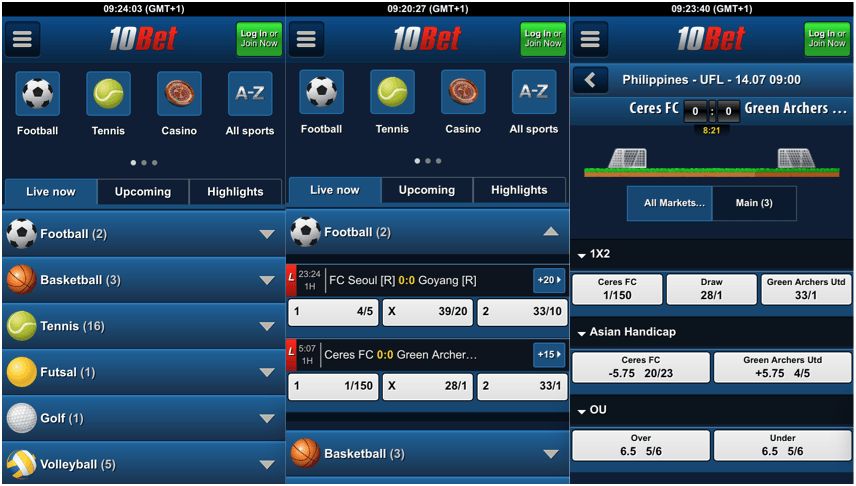 You can find the link for the mobile version of 10Bet, in the website m.bet10.co.uk, and then to click on the button with label "Play Now" on it.
Installing the sports mobile version of 10Bet
Because the company cares about its current and future customers, the installation of the mobile app 10Bet is made as easy and simple as it is possible and takes almost no time. You just need to follow this simple steps which are not only explained step-by-step but also pictured. Don't forget to go to "Menu" -> "Settings", then to find "Security" and finally to enable "Uknown Sources". You must do this because in another way you can not download this sports mobile app.
The 10bet app has a present for every new customer. There is a bonus up to a 200£, and it could be win by registering below and getting the app. That bonus is available for all those customers who make a registration by clicking the link above, with code "FD200". The rule is that you must deposit a sum between 15£ (that is the minimum required a deposit) and 200£ and to wager the whole deposit over at odds at least 1.6 – including all the leg of any access – other terms and conditions apply.
Compatibility of the App with Your Phone or Tablet
The10Bet sports website can be instantly reached by almost any type of latest smartphones and tablets and also from devices. There are no special instructions which you need to require. These are some of the devices that the app works on:
Samsung: Samsung Galaxy Tab, Samsung Galaxy A 9, Samsung Galaxy Note, Samsung Galaxy S, Samsung Galaxy Note, Samsung Galaxy Tab, Samsung Galaxy View, Samsung Galaxy E 7, Samsung Galaxy E 5, Samsung Galaxy S 6, Samsung Galaxy S 6 Edge
Sony: Sony Xperia C 4, Sony Xperia M 4 Aqua, Sony Xperia Z 3, Sony Xperia Z, Sony Xperia Z 3 Tablet, Sony Xperia Z 3+, Sony Xperia Z 4 Tablet
Motorola: Motorola Moto E, Motorola Moto X, Motorola Moto G, Motorola Nexus 6
LG: LG Tribute, LG G 3, LG G 4, LG G Flex, LG G Pad, LG Tablet
Blackberry: Blackberry Passport, Blackberry Z 30, Blackberry Leap, Blackberry Passport
Other: HTC One, HTC M 9
iOS: iPhone 3 GS, iPhone 4, iPhone 4 S, iPhone 5 C, iPhone 5 S, iPhone 6 Plus, iPhone 6, Ipad 2, Ipad 3, Ipad 4, ipad Mini, Ipad Air, iPod Touch 4
Application Overview
The 10Bet app version was founded in 2003 and now it is developing itself as one of the world's leading bookmakers. The customers of the app are for all over the world, so you should not fear of some language barrier. It does not exist.
View 10Bet on Your Mobile
Payment methods
You can fund your sports betting with numerous ways including:
Paypal
Skrill
Visa
Neteller
Bank transfer
Betting features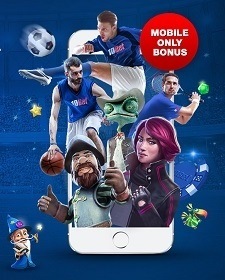 We have encountered the ultimate, full of fancy and expensive features app of 10Bet Mobile, and you can check out some of them:
A welcoming bonus 50% up to £200
Frequent reload bonuses
Odds that cannot be found anywhere
More than 60000 events every month and 18000 live events included
More than 1000 types of betting
60 and more different sports
150 football leagues and more
Compatible with all mobile devices (see the list up to be surer)
Quick cash outs and safe depositing
Has a UK Gambling Commission licence
Sports betting
Comparing 10Bet mobile app with some of its rivals, it is more market driven than promising a whole host of functions place. By that stands the meaning, that you will find a wealth of markets that will compete with the broad majority of bookies, come with Bet 365 app and Ladbrokes app, rather than an in-depth stats and live-streaming.
You will be kept engaged for hours, for example, with the allowed access for 150 football leagues, each covered with a wide variety of markets. All sports like tennis, rugby, hockey, golf and some niche markets, for instance, esports (which is becoming very popular lately) can also be found here.
Casino
The range of offers of the 10Bet Mobile app is almost unlimited. On the list are more than 100 games, which you can access by logging to your account. Casino games like Blackjack, Shaolin spin, Roulette, Game of Thrones and even live casino options. It is all there, and it gives the 10Bet Mobile app a full, well-rounded picture of a perfect app, along with its good design and the app's sports markets wide range.
The bonuses come not only for new customers but also for already existing clients. The current bonuses are 100 pounds free welcoming bonus, which is just a part of other offers. They can be found in the sidebar, under the promotion tab.
What is new on the last version?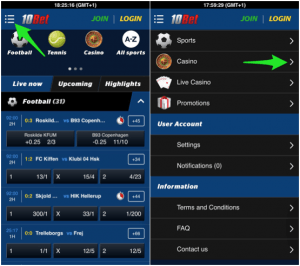 Especially for you, the 10Bet mobile app was designed with a login that only you can get access to. You are now able to use your fingerprints to log in safely and securely into your account.
The other great new option is the live chat. Live chat allows you to chat with a support member of the app's team, enabling you to instantly solve any problem which may occur with our 10Bet mobile app or 10Bet website.
Bugs have been fixed from the previous version and some UI improvements to enforce the style, graphics, and interface, making them more user-friendly for an easier orientation while hunting for bets. Giving those new options and fixing the old bugs has been done to attract new customers, hungry for gambling.
The customers' experience
The 10Bet Mobile app is not one of the flashiest apps existing in the internet surroundings. The lack of flashy graphics allows there to be put fantastic odds, directly in front of your screen, which means you should not need to click on the menu a lot.
It is nice to see a simple interface with all the needed odds in it. 10Bet bets exactly on that with their incredible app.
Our Opinion
We think that it costs a solid effort to be made and appear as good as it is these days because Bet10 is not one the well-known Uk bookies providers.
App of 10Bet Mobile is made to meet the needs of gamblers, who do not need live streaming on the sport they put their bets on. And it may not has one of the best appearances, but the markets that provides on the wide range of sports makes this app valuable for its customers.
The suitability and the efficiency of the 10Bet website and the 10Bet Mobile app, makes the gamblers to enjoy its features and the special offers. For a case of need, you can easily contact the reliable customer service, which is always there to help you.
We hope we were useful enough with the provided information about the both opportunities to reach 10Bet.
​